Adventure and Relaxation Await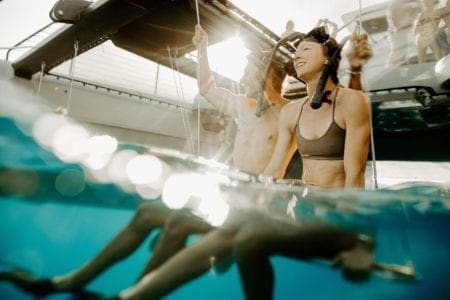 Tucked in the heart of the Caribbean, the US Virgin Islands shimmer with enchanting beauty. Palm-fringed beaches with white sands and crystalline waters set the scene for romance and adventure.
For honeymooners, these islands offer a spellbinding blend of seclusion, luxury, and thrilling escapades. You'll experience the laid-back rhythm of island life, indulge in scrumptious cuisine, dive into an underwater wonderland, and watch breathtaking sunsets. It's a place where moments turn into lifelong memories.
The team at Voodoo VI is happy to help you write the next exciting chapter in your story. We curate exceptional experiences that perfectly balance exploration and relaxation. Discover how we bring the enchanting charm of the US Virgin Islands to life with our unique honeymoon excursions.
Private Excursions
For couples seeking exclusive adventures, our private excursions are a dream come true. Voodoo VI is crafted for luxury day charters, capable of hosting groups both small and large. Our vessel offers spacious seating, areas to bask in the sun or chill in the shade, an open bar, and top-of-the-line snorkel gear.
This private adventure gives you the flexibility to tailor your day on the water exactly how you wish. Whether you desire to explore hidden coves, snorkel in secluded spots, or simply sunbathe on deck, the day is yours to shape. Booking is simple—either reserve your date directly or fill out our form for additional information and pricing.
BVI Day Trip: Visit the Baths and White Bay
For couples seeking the ultimate Caribbean honeymoon experience, Voodoo presents our exquisite British Virgin Islands (BVI) Day Trip. This romantic journey promises a day filled with mesmerizing landscapes, intimate adventures, and shared discoveries that will become treasured memories.
Start your day with a visit to The Baths, a remarkable geological formation renowned for its vast boulders and tranquil grottos. This is a place of unparalleled beauty that invites exploration and offers stunning backdrops for your honeymoon photos. To ensure your comfort and safety, our crew guides you on a taxi ride from the Spanish Town Marina to this natural wonder.
As the day unfolds, we voyage to the pristine White Bay on Jost Van Dyke. This captivating beach, with its powdery white sands and azure waters, hosts a charming collection of beach bars. Here, you can unwind and soak in the Caribbean sun, hand-in-hand with your loved one. Try the iconic Painkiller cocktail at the famous Soggy Dollar Bar, or share a moment at One Love. This magical setting consistently ranks as one of the world's top beaches and is a perfect location to celebrate your love.
What's a honeymoon without the perfect photos to remember it by? This trip provides countless opportunities for breathtaking shots. Capture a selfie with The Baths' fascinating rock formations as a backdrop, snap a candid moment while sipping cocktails at White Bay, or freeze a memory of the stunning seascapes from the deck of Voodoo.
Adventure and Relaxation at Jost Van Dyke
Designed with the romance of honeymooners in mind, this trip perfectly blends exhilarating adventures and soothing relaxation for an unforgettable journey.
We set sail early, charting a course for the captivating Jost Van Dyke. On arrival, we clear customs and embark on an exploration of the island's eastern treasures. If you wish to disembark at Great Harbor and start your Jost Van Dyke adventure a bit earlier, we're completely flexible.
As the sun climbs higher, we guide you through some of the island's most enchanting sights. Feel the excitement of the Bubbly Pool's playful waves, a phenomenon of nature that adds a dash of thrill to your day. Wander hand-in-hand along the sandy shores of Sandy Cay and Sandy Spit, each an untouched paradise.
As lunchtime rolls around, we bring you to the sublime White Bay. Here, you'll enjoy a delicious meal against the backdrop of breathtaking views. The afternoon is yours to enjoy as you wish. Bask in the sunshine on the pristine beach, take a leisurely swim in the calm waters, or simply revel in the tranquility of your surroundings.
We wind up our day at about 3:15 PM and head back through customs.
Laid-Back Lime Out
If your idea of relaxation includes tacos, we've got you covered.
Imagine yourself relaxing on a boat, cruising to Lime Out, the famous floating taco bar off the coast of St. John. You'll snorkel in the mesmerizing underwater world and relish delicious tacos away from the lunch rush. As the day winds down, you'll cruise back, watching the Caribbean sun set and reflecting on your unforgettable day. Keep in mind that this is a group excursion and lunch is later in the day, so don't skip a hearty breakfast.
Voodoo VI is committed to making your honeymoon unforgettable with these carefully crafted excursions. Our trips encapsulate the magic of the US Virgin Islands, blending adventure and relaxation for a truly unique experience. Whether you're snorkeling in the turquoise waters, dining at Lime Out, watching a majestic sunset, or enjoying your private adventure, you'll create memories that will last a lifetime.
If you're ready to embark on your tropical honeymoon journey in the Virgin Islands, Voodoo VI is prepared to guide you. Adventure and relaxation await!
---
What's included:
Open bar with a variety of beverages and cocktail options
UV filtered, cold drinking water on tap
Fruit Platter
Snorkel Gear
Fuel and Water
Captain and Crew
Pick-up and drop-off schedule:
Times vary based on the time of year. Please visit your day trip of choice under the Book Now button to see specific trip times. Voodoo offers pick-up/drop-off at the National Park Dock in Cruz Bay, St. John for our day excursions.
Red Hook, St. Thomas pick-ups/drop-offs are available for an additional fee upon request for private charters and groups of 10 or more. Please call or email us to make arrangements.
What to bring:
Sunscreen (no aerosol or tinted sunscreen please)
Towels