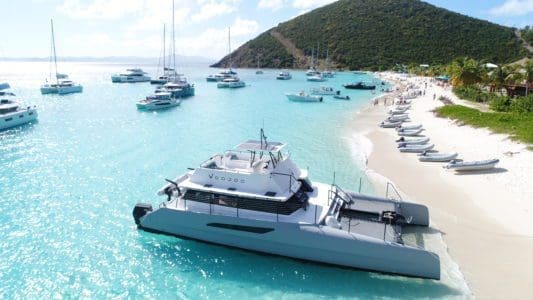 St. Thomas is surrounded by some of the most pristine waters in the world, making it the perfect location for a yacht charter adventure. From the vibrant hues of turquoise to deep blues, the waters of St. Thomas are nothing short of breathtaking.
Whether you are looking to soak up the sun, swim with the turtles or simply enjoy the beauty of the water, our luxury yacht charter is the ideal way to experience St. Thomas in all its glory.
Voodoo is your ultimate luxury catamaran charter service in the US Virgin Islands. We are thrilled to offer you an unforgettable experience, as we take you on a journey to explore the gorgeous island of St. Thomas from a unique perspective – the water.
Red Hook Pick-up and Drop-offs
For private charters we offer the option of Red Hook or Yacht Haven Grande in St. Thomas pick-ups and drop-offs at an additional fee. This service allows you to easily access our yacht charter and start your journey with ease. Please call or email us in advance to make arrangements.
Snorkel the USVI
The US Virgin Islands are famous for their crystal-clear waters, making them a paradise for snorkel enthusiasts. Our yacht charter service provides the perfect opportunity to explore the coral reefs and marine life of the USVI. With our experienced crew, you'll have the opportunity to discover hidden gems and secret snorkel spots, which are not accessible by land.
Laid-back Lime Out
If you're looking for a unique island experience, you must visit the famous Lime Out taco bar. Lime Out is an all-day floating taco and cocktail bar, located in the middle of the water, which can only be accessed by boat.
With a 10:30 departure you can begin your day without rushing. Join us onboard as we circumnavigate St John. We stop to snorkel in the protected waters of the national park which is one of the best places to snorkel in the Caribbean, you will enjoy the sights of sea turtles, rays as you swim above corals that teem with a kaleidoscope of brilliantly colored fish.
Lime Out is a floating taco bar that's become a must-visit destination for anyone visiting St. John. Our charters stop for lunch and we enjoy a laid-back afternoon enjoying delicious tacos, refreshing drinks and the warm Caribbean sun. The Lime Out experience is all about relaxation and good vibes, and we'll make sure you have everything you need to make the most of your time there.
Our luxury yacht charter service provides the perfect opportunity to visit Lime Out and enjoy a laid-back and unforgettable experience.
Private Charters and Events
Voodoo offers customized private charters and events, tailor-made to your specific needs. Our luxury yacht is perfect for romantic sunset sails, intimate gatherings, family outings, and corporate events.
Our experienced crew will ensure that every aspect of your journey is customized to your needs, ensuring an unforgettable experience.
We are dedicated to providing you with the best yacht charter experience in St. Thomas. Our luxurious catamaran, experienced crew, and customized itinerary make us the ideal choice for anyone who wants to explore the beauty of St. Thomas from a unique perspective.
Book your St. Thomas yacht charter with us today and let us take you on a journey that you'll never forget.
---
Private Catamaran Charters
Revel in the freedom of sailing at your own pace and on your own terms. Our private charters give you the chance to explore St. John's majestic coastline and its hidden gems, or just relax for a day on deck with friends and family.
What's included:
Open bar with a variety of beverages and cocktail options
UV filtered, cold drinking water on tap
Fruit Platter
Snorkel Gear
Fuel and Water
Captain and Crew
Pick-up and drop-off schedule:
Times vary based on the time of year. Please visit your day trip of choice under the Book Now button to see specific trip times. Voodoo offers pick-up/drop-off at the National Park Dock in Cruz Bay, St. John for our day excursions.
Red Hook, St. Thomas pick-ups/drop-offs are available for an additional fee upon request for private charters and groups of 10 or more. Please call or email us to make arrangements.
What to bring:
Sunscreen (no aerosol or tinted sunscreen please)
Towels